How En Route Technologies' GPS Tracking System Helps in Contracting and Construction?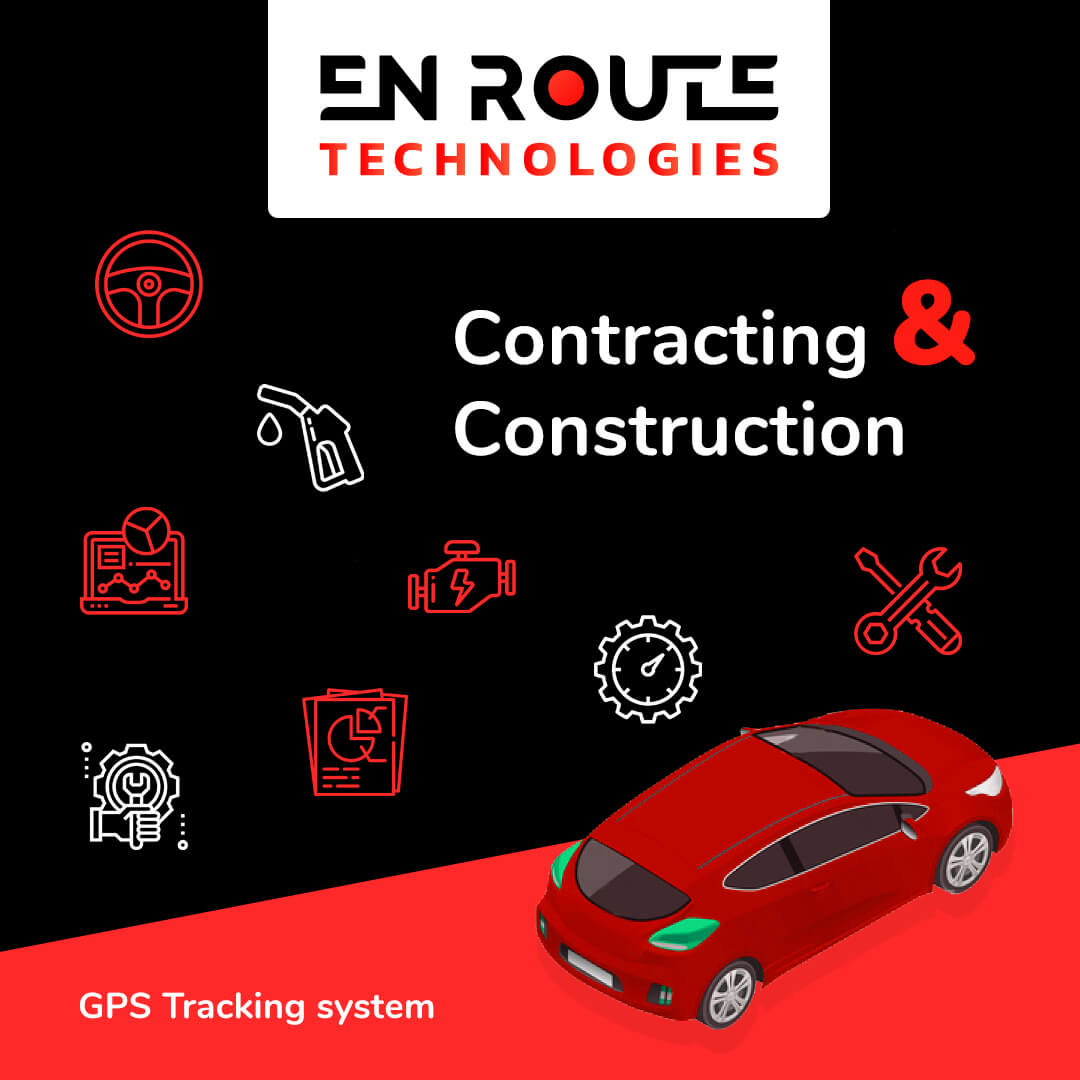 With many sites, drivers and vehicles to manage En Route Technologies GPS Tracking system help to improve productivity in contracting & construction, giving you detailed records in one platform with a customized dashboard.
We offer optimal solutions for your daily activities:
Monitor driving habits and identify safety risks with GPS Tracking
Reckless drivers are a huge liability to construction and contracting firms. A single accident can end up costing your business a lot of money.
With En Route GPS tracking you can ensure the highest attention to safety.
You will be notified using alerts whenever any of your drivers are exceeding the set speed limit, use harsh brake or acceleration.
Reduce Fuel expenses
Monitor fuel consumption and identify engine idling time that drains the fuel unnecessarily and waste money.
Cut on fuel expenditure by using the most efficient routes.
Monitor your employees driving habits and their choice of routes so you can work out better routes that will make the most of their fuel and save money.
Keep track of fuel used in real-time with fuel level sensor.
Stop unauthorized use and fuel theft that leads to fuel waste.
Engine Hours
Monitor your engine running time for your vehicles and special machinery.
The Ignition on and off
Movement start and end
Duration of interval
Idling – engine ON but not in movement
Mileage – distance traveled
Average and maximum speed
Know the exact movement and engine hours with full history details.
Measure the total time your vehicle Engine On is active but not in movement.
Engine hour reports help to ensure that your vehicle is in top condition.
Reduce Idling
When Vehicle's engine is running while the vehicle is not in motion is Idling.
A vehicle will be in actual idling when the vehicle ignition is on and there is no power take-off usage identified through engine data.
Once the ignition is on it can calculate the vehicle movement Start time till the vehicle movement End time.
When your vehicles use equipment that requires them to idle, this is considered working idle time. When the vehicles are idling but not used for work purposes, this is considered actual idle time. It's important to track the two separately.
Read also: How to reduce car idling with en route fleet management system
Boost performance by assessing Productivity level in real-time
With better overall efficiency comes an increase in productivity. Increase productivity and complete more jobs with our Fleet Management system
Get real-time data on their activities during working hours. This control converts directly to productivity.
It helps you track which vehicle is entering or leaving the site.
Enabling you to see which employee managed extra hours and how productive they were.
Cut-off engine
En Route Cut-off engine relay offers a safe way to immobilize your vehicles in case of unauthorized use or theft using our GPS Tracking.
Remotely disable the ignition from any location.
The engine and vehicle will be immediately immobilized.
Due to security reasons, vehicle immobilization will only take place once the vehicle is parked and the ignition turned off.
Until you reactivate the vehicle the ignition will not start.
Improve operational efficiency with Reports
Customize reports to get details on individual driver or group of drivers. Useful as it can be accessed easily via email as managers are often out of office in the construction industries.
With the ability to track location and on-the-job use, you can record employee work hours so they receive the correct payment amounts. In case of a payment dispute, you can refer to tracking records to justify billing decisions.
It helps you focus on the job and not on paper works.
Service Maintenance (optional)
En Route Technologies helps you set up a comprehensive maintenance schedule with the help of alerts and reminders.
Gives visibility on your maintenance events and their costs. You can see which areas could be improved, which vehicles could be eliminated or used differently or if there is a recurring breakdown pattern for some vehicles and why.
Track past, present and future maintenance milestones.
You can set up service and maintenance reminders, ensuring any vehicle breakdown can be effectively planned.
Challenges of Construction and Contracting sector fleets
Fleets are usually made of mixed and extremely expensive equipment.
Budgets are extremely tight and margins are increasingly low.
Tight budgets force managers to cut on costs or expenses that are sometimes necessary.
They are sectors with the highest safety risks for employees.
They need to control which machines are operating and if they are in the right area.
As in all industries, Corporate, social, environmental responsibility has to meet expectations.
They need to control all assets and manage drivers often driving different vehicles.
En Route provides Solutions for overcoming above challenges
It gives you an asset inventory, enabling you to locate them at any time and helps in preventing theft.
Manage and save money and time, keeping your margins – even increasing them!
Save money on fuel, maintenance, wear and tear without overlooking safety and compliance.
Monitor risks, working hours and keep your staff and general public safe.
Visibility of your vehicle activities at any time, from any device from anywhere.
Run a responsible, safe, greener, 100% compliant fleet.
Add-ons for driver identification, equipment activity, and asset tracking are available with En Route Technologies.
With En Route Technologies GPS tracking system move your business forward….
Recommended Posts