Easier Deliveries for Restaurants with En Route Technologies GPS Tracking System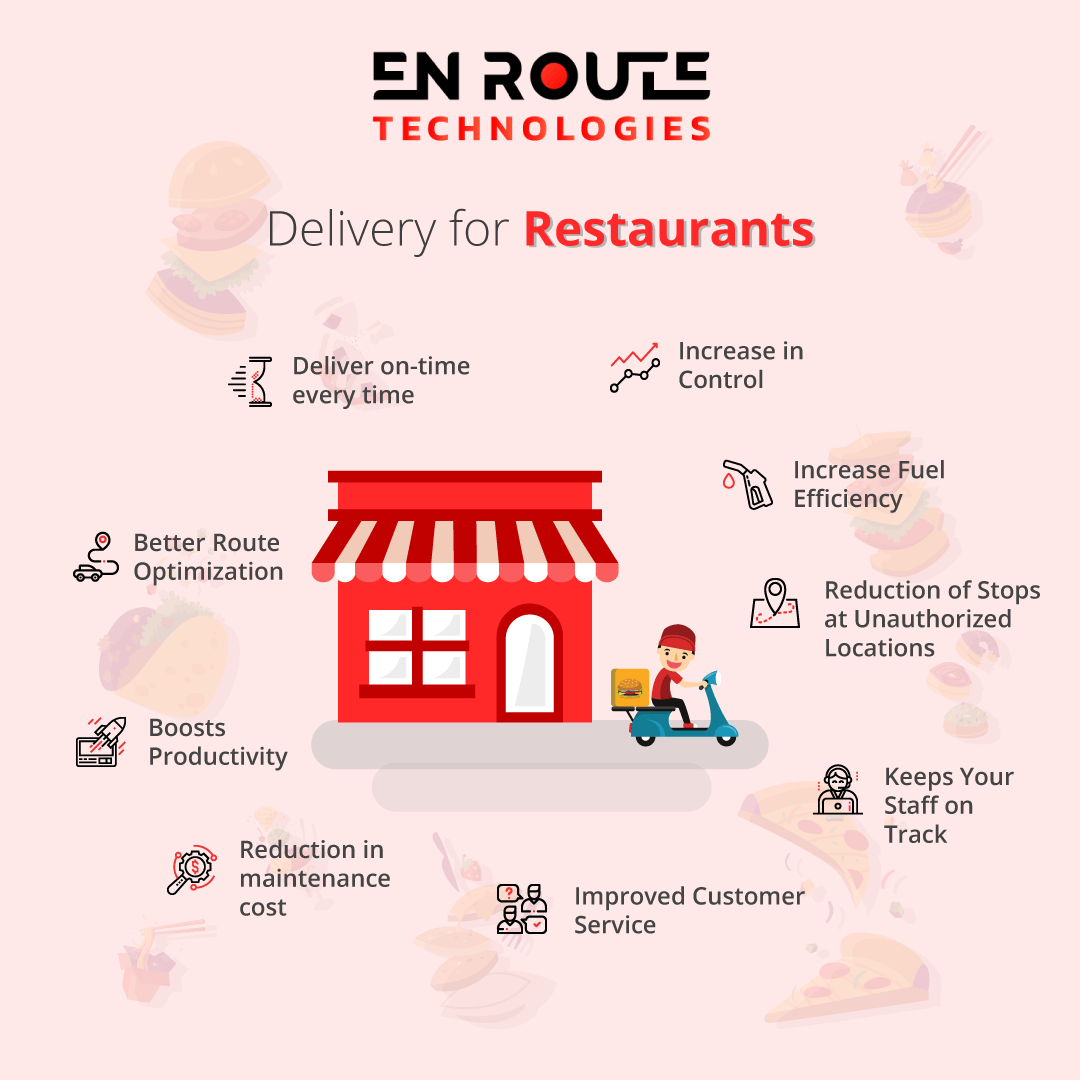 With En Route Technologies GPS Tracking System start increasing the number of your delivery for restaurants, deliver faster and always keep your customers happy.
Delivery on-time every time
With En Route real-time location feature you can ensure all your deliveries are done on time.
Using the live updates you can now provide your customers with accurate estimated arrival time giving them excellent customer service.
No more delays in responding to customers thereby improving deliveries predictability.
Increase in Control
GPS tracking system helps you monitor your driver's speed, route taken, stops and more.
It gives you complete information on what the drivers in your fleet are doing along with their productivity, hence you can make sure everything is operating smoothly.
Read also: Accurate Logistics and Fast Delivery
Better Route Optimization
With the help of a GPS tracking system, you can determine the territories that make the most sense for each driver to cover, the best routes for them to take, and the order in which the deliveries should be made.
This means the food will reach the customer hot and fresh and right on time.
It helps in detecting new opportunities in areas that were not covered before.
Efficient and Effective routes can make a big difference in business operating costs.
Increase Fuel Efficiency
Fuel efficiency goes along with Route optimization. When drivers are taking the best possible routes for their deliveries to get from one place to the next, they are reducing travel time.
This decreases the overall cost of the fuel, which can be a huge help in saving your business money.
Besides, another way to save fuel is by making sure your drivers are going the proper speed on the road.
Boosts Productivity
The GPS tracker in each vehicle will record data such as start and stop times when a driver goes out to complete his deliveries.
The live map allows you to keep a close eye on the location of your drivers and hold them accountable for their actions.
One extra stop, one more job or one more delivery for each employee adds up greatly increasing the overall efficiency in the way you run your business.
Reduction of Stops at Unauthorized Locations
GPS tracking systems allow you to track the drivers that make up your fleet, ensuring that they are staying within their route and only making stops that pertain to your business.
It gives you live visibility into a deviation from routes that may cost valuable time and money. GPS tracking systems will alert you if drivers are failing to do so.
Reduction in maintenance cost
Using the scheduled maintenance feature and reminder alerts, you will always know when to complete maintenance on time which will reduce the chances of unnecessary vehicle deterioration.
Streamline maintenance to keep your fleet up and running.
Improved Customer Service
When your drivers are taking more efficient routes, they are making deliveries faster, which increases the overall efficiency of your business.
The quicker clients receive deliveries, the happier they will be.
By keeping customers happier with improved delivery times and fewer delays.
Keeps Your Staff on Track
Distractions are everywhere, and it can slow down your delivery time if your staff isn't working to their full capabilities. They can also waste valuable time trying to get in touch with their supervisors to find out the next delivery.
You can use our task and route planning solutions to give your drivers a detailed list of their duties. They can work straight through the list, stay on track and complete the deliveries right on time.
Perhaps now is the right time for your Restaurant deliveries to take advantage of the En Route GPS Tracking system….
Recommended Posts