Why En Route Technologies is the Right Choice for Your Fleet Business?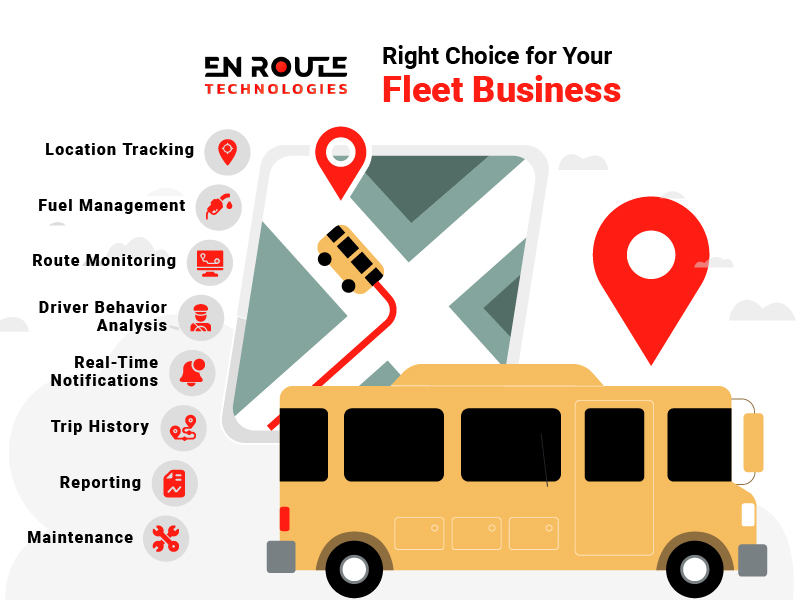 En Route Technologies has become one of the best GPS tracking systems in Dubai due to its excellent features and customer service. A wide variety of businesses make use of its tracking solution as it provides a great value for their investments. Everyone uses the En Route Technologies GPS tracking software, from Car Rental and Ride-Hailing companies to various industries.
There is massive competition in the fleet market right now, with a large number of service providers available. What makes En Route Technologies stand out? Let us discuss it in detail.
Reasons Why En Route Technologies GPS Tracking System Stands Out:
En Route Technologies is a step ahead of all the other telematics solutions available in the market due to following reasons:
User-friendly Design:
The design is the first thing that catches the user's eye, and it should be up to the mark. En Route Technologies' tracking solution has a design that is not only attractive but also easy to use. A new user can easily navigate through the software without much problem. It comes with informative tooltips that help the new users explore the system's features. The design of the software is responsive for various screen sizes, making it convenient for all types of users.
Wide Range of Features:
En Route Technologies' tracking solution is not just another GPS tracking system. It is a complete fleet management system with an array of features providing end-to-end support during fleet operations. Some of the key ones are as follows:
Location Tracking
Fuel Management
Route Monitoring
Driver Behavior Analysis
Real-time Notifications
Trip History
Reporting
Maintenance
Efficient Customer Support:
Any service is useless without good customer support. En Route Technologies gives you amazing features and 24/7 active customer service. With experienced support professionals who have been in the field for many years, you can get all the answers. For new clients, complete training of the software is offered to make them understand every system's functionality.
Availability of Customization Options:
The best part of En Route Technologies' GPS tracking system is that it is not rigid. You have the freedom to use the software according to your requirements. Everything can be set as per your needs, from controlling the privileges of various user roles to customized report templates. It provides the fleet businesses convenience in running operations, enabling them to achieve their targets.
Great ROI:
Every fleet business wants to achieve better profitability, and that is the reason for using tracking solutions. En Route Technologies is designed to help companies boost the efficiency of their operations, increasing productivity. With better management, you can achieve more profitability resulting in the overall growth of the business. Therefore, as a business owner, you can achieve an excellent return on your investment.
Client-Driven Approach:
En Route Technologies prioritizes its clients over everything. Whether you talk about providing innovative features or round the clock customer support, everything revolves around client facilitation. Considering the trending client requirements in the market, En Route Technologies keeps on introducing new features. It focuses on helping clients in every aspect to run efficient operations.
En Route Technologies has gained popularity in the telematics market quickly. With state-of-the-art features of its tracking solution and unmatched customer service, it has become a leading GPS tracking system in Dubai.